7:45-8:30
Registration and Continental Breakfast
8:30-8:40
Welcome and Introductions
8:40-9:40
Morning Keynote - Brigadier General Ginger Gaglio
Brigadier General Ginger Gaglio is the chief of staff and commander of the Massachusetts Air National Guard (ANG) and serves as the ANG assistant to Secretary of the Air Force Manpower and Reserve Affairs in Washington, D.C. Gen. Gaglio is the principal advisor to the adjutant general and land component commander in the execution of all National Guard Joint Staff programs. She ensures the preparation of the 9,000 airmen and soldiers of the commonwealth of Massachusetts for both federal and state emergency contingency operations along with the commonwealth's Joint Homeland Defense Program, which includes rapid reaction forces, counter drug operations, civil support teams, expeditionary medical teams and explosives ordnance disposal. Prior to her current assignment, she was the wing commander of the 102nd Intelligence Wing.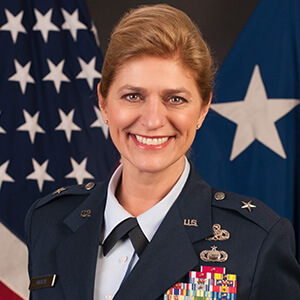 10:00-11:15
Concurrent Sessions 1
Track A: The Stages of Leadership: Stories and Strategies
Presented by NETSCOUT
Leadership 101: Accelerate Your Potential Through Personal Branding
Whether you are seeking a new position, changing roles within an organization or taking charge of your career planning, marketing yourself as a leader enables you to seize these opportunities. Yet few of us are ready and able to talk about our talents, accomplishments and the value we have to offer as leaders. This interactive workshop will feature a series of breakout activities designed to help attendees do just that.
Speaker:
Rita Balian Allen: President of Rita B. Allen Associates, Executive Coaching and Leadership Development

Track B: Relationship-Centered Leadership
Creating Authentic Connections to Increase Social Capital
The development of a personal network in a professional setting is a valuable tool. Social capital is at the core of these personal and professional relationships. Collaboration and shared vision help people to create these building blocks, but how else do we increase this in the workplace? Why should we?
Having people in your sphere that you can call upon for advice, mentoring, problem solving, and social support is a clear benefit to people at any level. The development of personal networks in the workplace not only benefits the employees but can also support organizational goals and community cohesion within the environment. Learn from women in the workplace about how they have successfully increased their social capital.
Speaker:
Cvic Innocent: Partner, Build Ventures Africa and Board Member, Erez Capital

Felicia Jadczak: Co-Founder, Co-CEO, and Head of DEI Programming, She+ Geeks Out

Darcy Orellana: Executive Director of Diversity, Equity and Inclusion, Middlesex Community College

Moderator:
Bhakti Deshmukh : Director of Global Talent Development, Waters Corporation

Track C: The Unshaken Leader
Presented by Enterprise Holdings
Impostor Syndrome: Stop Feeling like a Phony!
Do you feel like you need to know more to be the expert or share your opinion at work? Do you occasionally wonder why you have a seat at the table with your peers? You are not alone. Impostor Syndrome occurs when individuals attribute their accomplishments to good fortune or external factors rather than their abilities, experience, and skills. They fear they will be "discovered" as impostors who are not meant to be in their roles or positions of influence.
Join these exciting panelists, who will share their experiences and strategies to help you quiet self-doubt, address internal and external barriers to growth and remind you that your voice needs to be heard and that you have earned your seat.
Speakers:
Moderator:
Karyn Puleo: Executive Director of Facilities Business Operations, Adjunct Faculty, UMass Lowell Manning School of Business

11:25-12:25
Concurrent Sessions 2
Track A: The Stages of Leadership: Stories and Strategies
Presented by NETSCOUT
Lessons from the C-Suite: Top Management Perspectives
In corporate America's highest ranks, women executives are outnumbered by men at a rate of almost 17 to 1. According to the most recent YPO Global Gender Equality Survey, 47% of female chief executives at companies with revenues between $10 million and $1 billion said that cultural expectations for their gender were an obstacle. Meanwhile, only 2% of their male counterparts said the same. Our panel of women in the C-suites will offer advice for making it to the top, sharing personal stories and actionable strategies from their own careers.
Speakers:
Ruth Agbaji: Founder and Chief Executive Officer, Code Wiz

Carolyn Kirk: Executive Director, Mass Tech Collaborative

Laurie LaChapelle: Chief Financial Officer, DCU
Monica Rommel: Owner & CEO, Specialty Materials

Moderator:
Track B: Relationship-Centered Leadership
Building and Sustaining Powerful Coalitions
A coalition is defined by Merriam-Webster as "an alliance for combined action." The Greater Lowell Health Alliance (GLHA) is composed of health care providers, business leaders, educators, and civic and community leaders with a common goal to help the community identify and address health and wellness priorities. This session will focus on the strengths a coalition brings to achieving goals that impact a community. Leadership from the GLHA, along with leaders from diverse community organizations, will speak to the benefits of participating in the coalition as well as the challenges faced by community organizations to make long-term, sustainable changes that benefit people living and working in the community. The session will help participants think through how a coalition approach may be of benefit to their organization.
Speaker:
Kerrie D'Entremont: Executive Director, Greater Lowell Health Alliance

Mercy Anampiu: Health Promotion and Education Manager, Lowell Community Health Center
Adriana Giraldo: Student Services Coordinator City of Lowell
Lisa Taylor Montiminy: Community Benefit Manager, Lowell General Hospital
Moderator:
Hannah Tello: Director of Projects and Evaluation, Greater Lowell Health Alliance

Track C: The Unshaken Leader
Presented by Enterprise Holdings
Who Moved the Water Cooler? Encouraging Collaboration and Productive Teams in Today's Dynamic Workplace
Today's workplace can look and feel very different than the pre-pandemic environment. There are many more opportunities for work including working in hybrid environments - some remote, others face-to-face and some with a mix of the two; leaders may be managing a workforce of contingent workers (independent contractors, freelancers, consultants) along with full-time, benefited employees. The changes of the past few years will impact our workforce for years to come and leaders need to have the necessary skills and knowledge to foster a sense of community, collaboration, and connection, in this flexible work world. This exciting group of panelists will share their experiences on fostering diverse, flexible, collaborative and productive teams in today's dynamic workplace.
Speakers:
Kristen Brown: Head of Global Talent Acquisition - Engineering, Cisco Systems

Sue Collard: Vice President of Belonging, Diversity and Equity, UKG

Ellen Ellsworth: Director of Growth and Innovation Services, MassMEP

Moderator:
Beth Humberd: Management Chair, Associate Professor, UMass Lowell Manning School of Business

1:30-2:30
Concurrent Sessions 3
Track A: The Stages of Leadership: Stories and Strategies
Presented by NETSCOUT
Navigating Gender Politics at Work
Whether you're in a male-dominated field or struggling with a culture that does not always support the advancement and success of women, gender politics affect all of our workplace experiences at some point in our careers. Our speakers will share stories from their own careers and lay out some practical strategies for successfully combatting negative biases, policies and practices.
Speakers:
Nora L. Baston: Boston Police Department Bureau Chief, Bureau of Professional Development Superintendent

Evana Gizzi: Principal Investigator, NASA Goddard Space Flight Center

Moderator:
Karoline Evans: Assistant Professor of Management, UMass Lowell Manning School of Business

Track B: Relationship-Centered Leadership
The Strength of Values-Based Leadership
Values-based leadership includes putting an emphasis on the team and surrounding yourselves with those who share your ideals and passion and will hold you accountable. The values of business owners, leaders, and employees fit into the blueprint for a successful business or organization. Learn how leaders are effective in their support of employees by creating collective buy-in around shared values of integrity, inclusivity, and humility, to name a few. This session will introduce participants to leaders that have committed to guiding their organizations with a values-centric leadership philosophy.
Speakers:
Moderator:
LZ Nunn: Executive Director, Project LEARN

Track C: The Unshaken Leader
Presented by Enterprise Holdings
The Power of Body Language: Mastering the Art of Nonverbal Communication
Body language influences the way others see us, but importantly, it may also influence how we see ourselves. Do you find yourself checking emails or texts during Zoom meetings? When you are at an in-person meeting, do your emotions show on your face when you disagree? Might your body language send a message that you don't care, when you truly do? If so - this session is for you! The session will discuss the power of body language and posture in creating self-presence, how posture can boost confidence, and how non-verbal communication can enhance our chances for success. Participants will learn and take away tools for being a more impactful and confident nonverbal communicator.
2:50-3:50
Afternoon Keynote - Pam Kuong, Senior Vice President, Santander
Pam Kuong has been in banking for nearly four decades. She began her career in commercial banking at Bank of New England, which underwent five acquisitions during her time there. She moved to Bank of America until 2022, when she left to become a senior vice president and market director in the Middle Market North division of Santander Bank.
Kuong has been a volunteer swimming coach for 30 years. She is an avid golfer, winning numerous New England Senior Amateur titles and Massachusetts Player of the Year awards. She has also competed in over 30 USGA national championships.
A longtime member of the board of the ESSCO-MGH Breast Cancer Research Fund, Kuong is also on the Governance Committee for MassGolf. She earned a B.A. from Ohio Wesleyan University and an M.B.A. from Babson College.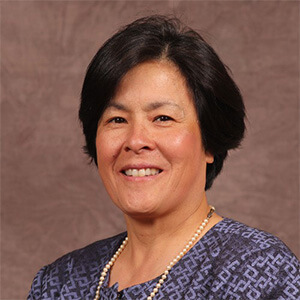 3:50-4:00
Closing Remarks
4:00-5:30
Closing Networking Reception