Customizable and Flexible Online MBA Program
Take your career to the next level and join the ranks of the next generation of global business leaders with UMass Lowell's online MBA program.
Gain highly marketable, in-demand skills and position yourself for success by learning how to manage and integrate functional business areas to create value for an organization while understanding the role of business in the worldwide economy.
78% of companies plan to hire MBA graduates in 2019.
---

Ranked as One of the Best Online MBA programs in the Nation by U.S. News & World Report

The program is offered through UMass Lowell's Manning School of Business, which is accredited by the Association to Advance Collegiate Schools of Business International (AACSB) — an elite distinction earned by less than five percent of business schools worldwide.
---
UMass Lowell's online MBA program offers a flexible schedule for busy working adults. You can pursue a general program of study by choosing electives that cover a wide range of business topics, or you can customize the program and concentrate on a specific business area by selecting one of nine options: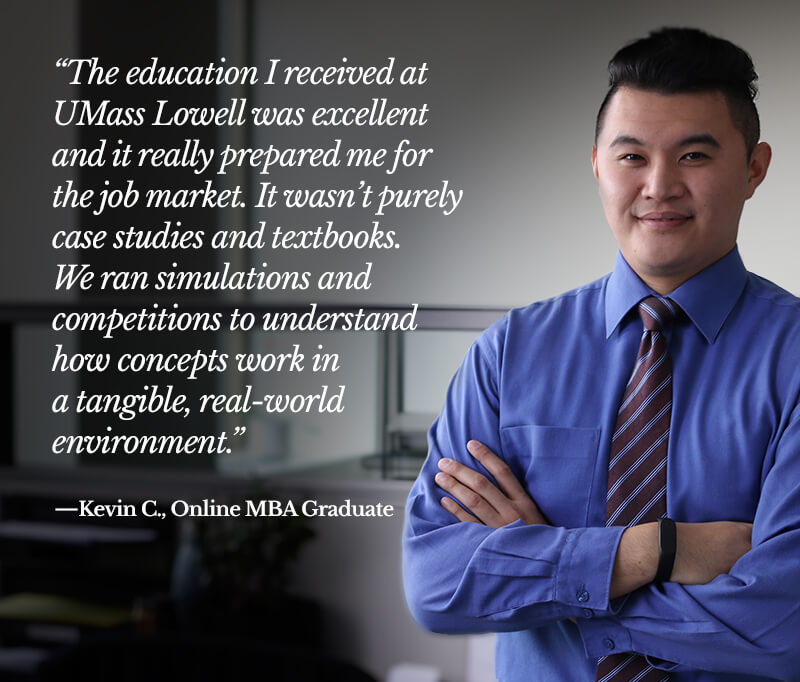 Nearly 9 in 10 employers rate the value of a graduate business education as very high or above average (86%).
Source: Graduate Management Admission Council (GMAC) Corporate Recruiters Survey, 2019.

Learn from a Leader in Innovation and Entrepreneurship
UMass Lowell has a robust entrepreneurial ecosystem that includes co-working space for start-ups with the Innovation Hubs in Lowell and Haverhill; M2D2 (the Massachusetts Medical Device Development Center & Biotech Incubator); the Office of Technology Commercialization; the Fabric Discovery Center; and DifferenceMaker®, a campus-wide program that engages UMass Lowell students in creative problem solving, innovation and entrepreneurship.
Have Questions?
For more information about the Online MBA program, please contact one of our MBA Program Specialists, who are located in the Pulichino Tong Business Center at 72 University Avenue, Lowell, MA 01854: