Liberal Arts and English Degrees Online
Become an expert communicator, thinker and problem-solver while expanding your job opportunities by earning a liberal arts or English degree online. UMass Lowell's top-ranked online programs will help you turn your love for reading, writing, talking, brainstorming and social justice into a rewarding career.
Liberal Arts and English Degrees Online or On-Campus
English and Liberal Arts Careers
English and liberal arts majors may choose to move on to graduate school or find rewarding careers in many different fields. English graduates often pursue positions in education, publishing, marketing, journalism, library science and law. Liberal arts graduates are prepared for a wide range of career options based on their selected concentrations.
Source: Lightcast, 2023, Liberal Arts and English Jobs in the United States
"According to studies from the National Association of Colleges and Employers (NACE), employers often rank skills such as critical thinking and communication — hallmarks of a liberal arts education — above technical aptitude as essential skills for career readiness."
Top Companies Hiring UMass Lowell English and Liberal Arts Graduates
Amazon
Boston Public Schools
Brookline Public Schools
Cambridge Public Schools
Fidelity Investments
Harvard University
IBM
Lawrence Public Schools
Lowell Public Schools
Massachusetts Institute of Technology
Middlesex Community College
Raytheon Technologies
Santander Bank
Springfield Public Schools
Teach for America
TJX

What Can You Do with an English Degree?
Years ago, degrees paved linear pathways to specific careers, and a degree in English might have limited your options to teaching, writing or editing roles. Today, an English degree will prepare you for a diverse range of positions spanning many different job titles and industries.
Discover
What You Can Do with an English Degree
.
Real Faculty. Real Campus. Real Research.
Learn from UMass Lowell's world-class Fine Arts, Humanities and Social Sciences faculty. They are scholars renowned for their engaging instruction and commitment to helping each student find the ideal career path.
The English Department offers courses in American and British literature, journalism, theatre arts and writing to improve your writing, research and reading skills. The liberal arts program allows you to customize your learning experience by offering concentrations in:
Art History
Criminal Justice
Economics
English
Gender Studies
Graphic Design
History
Legal Studies
Philosophy
Political Science
Psychology
Highest Lifetime ROI
UMass Lowell has the highest lifetime return on investment for public research universities in Massachusetts. The English and liberal arts programs offer among the most affordable online tuition rates in the nation and accept up to 90 transfer credits, allowing you to complete your degree in just 12-24 months. Additionally, substantial scholarships, grants and other financial aid opportunities are provided.

Liberal Arts Builds Skills in High Demand
Joseph Lipchitz, an emeritus faculty member in UMass Lowell's College of Fine Arts, Humanities and Social Sciences, sums up the meaning of liberal arts: "Liberal arts teaches one how to think as opposed to what to think."
Learn more about the
Value of a Liberal Arts Degree
.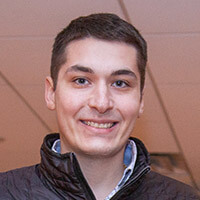 "My experience at UMass Lowell has been amazing. When I first transferred, I took a few classes on campus. Taking classes on campus and utilizing the resources UMass Lowell offers was nice. My work schedule began ramping up, so I started taking some online classes. I ended up loving the online classes and stuck with them. I haven't taken a course on campus for years. Online courses give me the flexibility to do my school work on my schedule and terms."
---
Daniel Walsh
Bachelor's in Liberal Arts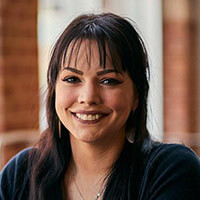 "I'm 31. I felt like I had missed the college experience because I was taking care of my grandparents, but with UMass Lowell, I have no regrets. I definitely chose the right school for me."
---
Sierra Duncan
Bachelor's in English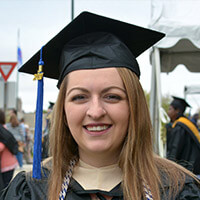 "When I started the program, I definitely wasn't sure what to expect. The professors were so helpful and so engaging and they gave you that push to keep going and I started to enjoy it more ... I enjoyed everything I learned, every class I took really engaged me and so I didn't mind going through the summers."
---
Sarah Nickerson
Bachelors in Liberal Arts
Upon graduation, you may take advantage of the worldwide network of UMass
alumni
.
Begin Your UMass Lowell Journey Today
Apply Now