Expand Your Horizons with an Online Bachelor's in Liberal Arts
Gain a high-quality, multidisciplinary education that will prepare you for success in whatever career you choose. The convenience and flexibility of our online Bachelor's in Liberal Arts make it an ideal choice if you are a working adult or a transfer student. As a graduate, you may pursue careers in education, law, journalism, paralegal services, politics, human resources, communications, international governance and humanitarian assistance.
Career Outlook
Source: Lightcast, 2022
Occupations
Archeologists
Artists
Chief Executives
Computer Support Specialists
Economists
Financial Managers
Public Relations Specialists
Human Resources Specialists
General and Operations Managers
Graphic Designers
Interpreters and Translators
Marketing Managers
Project Management Specialists
Sales Managers
Social Workers
Social Scientists
Teachers
Writers
According to studies from the National Association of Colleges and Employers (NACE), employers often rank skills such as critical thinking and communication — hallmarks of a liberal arts education — above technical aptitude as essential skills for career readiness.
Key Takeaways
Build robust critical thinking abilities
Develop strong oral and written communication skills
Devise creative approaches to problem-solving
Acquire a solid foundation in science and the humanities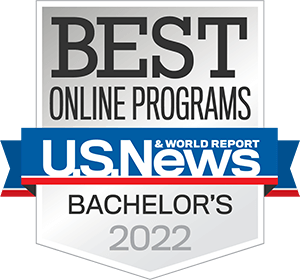 Ranked as One of the Best Online Bachelor's Programs in the Nation by U.S. News & World Report
Customize your Degree
Personalize your program of study by choosing up to two concentrations.
Success Story