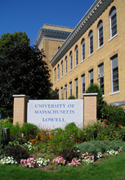 UMass Lowell's Division of Graduate, Online & Professional Studies is one of the largest nonprofit Graduate, Online & Professional Studies programs in New England, featuring a huge selection of affordable part-time graduate and undergraduate courses, degrees and certificates - on campus or online.
Awards and National Recognition for UMass Lowell's Online Degrees and Certificate Programs
The Division of Graduate, Online & Professional Studies was an early pioneer in online education and has been making the University's traditional academic programs available to students all over the world for over 20 years. Their dedication to quality online education programs has earned the University several awards and national recognition for innovative programming, faculty development, and online teaching.
Building upon the strength of the University's outstanding faculty, along with a dedicated team of professional online course developers, the University is committed to the quality and success of its online programs.
Their nationally-recognized, award-winning online programs provide adult learners with an affordable option to advance their education or update their knowledge to become more "work ready" for today's world.
On-Site Corporate Education Programs for Companies Worldwide
UMass Lowell's Corporate Training Division serves as an outreach arm for the University with corporate America. UMass Lowell has long offered programs that feature corporate partnering and regional economic development.
Corporate programs have been delivered primarily in three major signature areas: Information Technology, Manufacturing Technology and Plastics Engineering Technology.
---

The Online Learning Consortium Awards for Excellence in Online Education:
Ralph E. Gomory Award for Quality Online Education

Assessment for Excellence Program

Outstanding Achievement in Online Education

Jacqueline F. Moloney

Most Outstanding Online Teaching & Learning Program

Applied Behavior Analysis Certificate Program

Excellence in Faculty Development for Online Teaching

Online Teaching Institute

Excellence in Institution-Wide Online Teaching & Learning Programming

Online Education Program

Excellence in Online Teaching

Joan Cannon