Overview
This seminar is based on, but explores beyond, the core processes of the Project Management Institute: Scope, Time, Cost and Integration Management. It is appropriate for students being introduced to project management methods, as well as for those who know the fundamentals but want to expand their toolkit with new techniques and metrics for justifying needed resources, budgeting a project, and tracking and controlling work, schedule, cost, and value performance.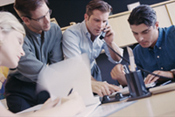 Performing projects requires resources, and resources always cost money and are of limited availability. Since the project is an investment, the project manager must strive to utilize the resources with which they are entrusted to maximum efficiency, generating the maximum value based on the terms of the project investment. This may often mean learning how to justify additional resources, based on the precise targeting of their use to generate greater value. Using standard PMBOK® Guide techniques, enhanced by the techniques and metrics of Total Project Control, this seminar explores all the main tools for both planning and tracking resource usage, as measured in both labor hours and dollars.
Content
Activity-based resource assignments and costing
Resource scheduling and leveling
Developing a project budget
Developing a cost accrual schedule
Earned value planning and analysis, including all standard PMBOK Guide and DoD metrics
The new project tracking metrics of the TPC methodology
Find out how you can apply this course towards a noncredit
Certificate in Project Management
!