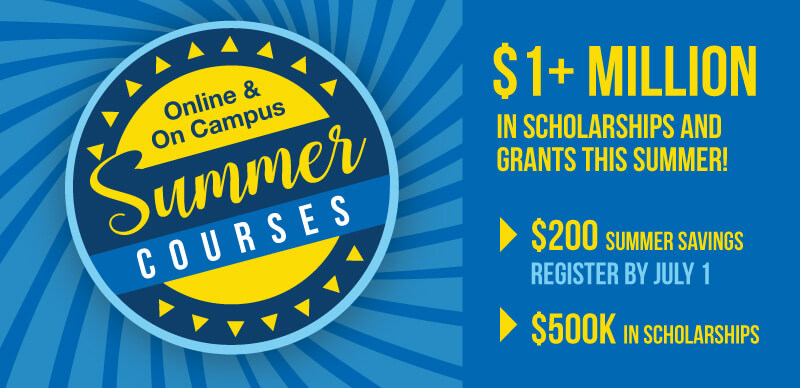 We're Here to Help You Keep Your Education — and Your Future — on Track
UMass Lowell is offering more than $1 million dollars to support your success this summer. Cash in and make the most of your summer with more than 750 courses to choose from. Accelerated courses are available in 6-week, 8-week, 10-week or 12-week options. Getting ahead gets easier – this summer at UMass Lowell.
$200 Summer Savings
Students who register for a three-credit undergraduate course this summer by May 27, 2022 at UMass Lowell will automatically receive a $200 tuition credit. Students must be matriculated in a degree or certificate program to be eligible. This is a onetime, per student tuition credit that will be automatically applied to your account during the billing process after you register. Newly matriculated GPS undergraduate students are eligible to participate in this offer.*
No Application is Required for the $200 Tuition Credit
$500K Summer Scholarship
UMass Lowell is offering more than $500,000 in scholarships this summer. Designated for either currently enrolled UMass Lowell undergraduate students or for new students accepted into an undergraduate degree or certificate program for the summer semester, the UMass Lowell Summer Scholarship is being offered in addition to the $200 tuition credit, and other traditional financial aid programs, such as federal grants and student loans.
Apply Early
Students are encouraged to apply early. The application form will be available on April 1, 2022. Priority consideration for the UMass Lowell Summer Scholarship is given to students who submit the UMass Lowell Summer Aid Application and register for summer courses early.
How to Apply
For the $500K UMass Summer Scholarship, you will need to complete both the FAFSA and the Summer Aid Application. Click the "Get Started" button below to view eligibility requirements and how to apply.
Get Started »
Make the Most of Your Summer
750+ courses available online and on campus
Choose from 6-, 8-, 10- and 12-week courses
Take two 6-week courses in either session and still enjoy two months off this summer
Fulfill core curriculum requirements
Stay on track for graduation
Summer Session I: Starts May 16
Summer Session II: Starts July 5
*Non-degree registrations are not eligible. Additionally, students who are eligible for a tuition credit through other benefit programs (i.e. dependent of UMass employee, state employee, etc.) are not eligible for the additional $200 summer tuition credit. Only one tuition credit may be used at a time. UMass Lowell will apply the tuition credit that is the most advantageous for you.