Master's in Nursing Online
Advance your career as a nurse practitioner with UMass Lowell's affordable Master's in Nursing online. Offered by the Solomont School of Nursing, the online Master's in Nursing offers two tracks for students to choose from: the Adult Gerontological Primary Care Nurse Practitioner track or the Family Health Nurse Practitioner track. In addition to yielding one of the highest returns on investment, graduates of our Master's in Nursing program have a 93.2% pass rate for the national certification as a nurse practitioner with AANP or ANCC.
Additional benefits for students in UMass Lowell's online program include assistance with finding a clinical placement, small class sizes and professors who are doctors and experts in their fields. Upon program completion, you will be prepared to practice in advanced nursing roles, effectively demonstrate professional leadership and provide health care to diverse populations. Students complete 750 hours of direct patient care during their clinical practicum.
Career Outlook
Source: Lightcast, 2022, Nurse Practitioners in Massachusetts
"Overall employment of nurse anesthetists, nurse midwives, and nurse practitioners is projected to grow 40 percent from 2021 to 2031, much faster than the average for all occupations."
Key Takeaways
The objectives of the Master's in Nursing online curriculum focus on the following:
Health promotion of individuals, families and groups from diverse populations
Management of health problems in collaboration with clients, families, and health professionals
Leadership in the profession
Research utilization for evidence-based practice
Online Program + 4 Half-Days On-Campus
Built into the online Master's Degree in Nursing are four half-days of on-campus learning activities that allow you to interact face-to-face with peers and faculty in UMass Lowell's state-of-the-art nursing facility. You will conduct lab work and simulated clinical exams of mock patients to prepare you for the real world.
These four on-campus days are integrated into the curriculum as part of the following courses: NURS.6510 (two 4-hour on-campus sessions), NURS.6511 (one 4-hour on-campus session) and NURS.6512 (one 4-hour on-campus session).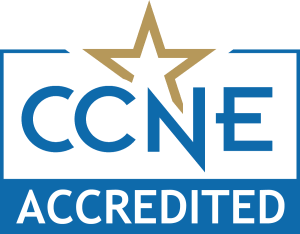 A Fully Accredited Degree from a Name You Can Trust
Offered through UMass Lowell's Solomont School of Nursing, the Master of Science in Nursing is accredited by the Commission on Collegiate Nursing Education (CCNE) of the American Association of Colleges of Nursing (AACN).