3 Day Lecture Offered Once
Tuition:
$1,350
---
July 31-August 2

00.758-012
Michael Paloian
8:30am-5:00pm

Registration for this seminar has closed.
---
For more information about registering,
click here.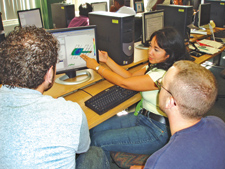 Overview
This highly interactive three day seminar includes recommended plastics design guidelines for multiple processes as well as their application to actual case studies. The program addresses specific design guidelines for all major plastics manufacturing processes based on similarities and differences specific to each process. Unlike conventional seminars which focus on design rules, this program has been carefully prepared to provide you with a keen understanding of various plastics processes and their effect on part design. Numerous case studies are cited for demonstrating critical points of interest. The program is ideally suited to engineers and industrial designers interested in plastics product design. Participants will be provided with an overview of plastic product design from initial product specifications to final production considerations. Content is typically modified during the seminar based on students' interests and professional backgrounds. Topics include industrial design, prototyping methods and engineering development based on actual case studies. Emphasis is placed on plastic product design, material and process selection as well as industrial design requirements.
An overview of the many factors to be covered in this program is summarized below:
Research and product specifications
Concept development - industrial design
Concept refinement - industrial design
Engineering and CAD design
Prototyping
Production documentation
Production release and follow-up
In addition to the above mentioned, the program will include human factors, aesthetics, marketing considerations, product architecture, cost trade-offs, tooling amortization, assembly labor, serviceability considerations, material selection, and finally process selection. General design considerations and guidelines will be discussed for the following plastic processes:
Injection Molding
Rotational Molding
Gas Assist Injection Molding
Structural Foam Molding
Pressure Forming
Vacuum Forming
Polyurethane Casting
RIM
Blow Molding
The curriculum will be structured to communicate this information in the following formats:
PowerPoint® lecture
Case studies and examples
Review of CAD files of actual products
Review of physical parts
Discussion of actual products
Interactive workshop applying the principles
Content
The program will be segmented into the following groups:
Day One Morning Session
Overview of product design, industrial design & plastics design
Day One Afternoon Session
Holistic overview of plastics design guidelines based on all processes
Case studies based on various processes
Day Two Morning Session
Product design using plastics
Plastics process comparisons
Day Two Afternoon Session
Examples/case studies/application of creative thinking
Workshop
Day Three Morning Session
Continuation of product design using plastics
Detailed explanation of design similarities and differences
Day Three Afternoon Session
Workshop - Apply the classroom information to an actual example