New!
We've lowered tuition in Haverhill — only $900 Per Course.
Registration is now available for the following UMass Lowell courses that will be held at our campus in downtown Haverhill.
Questions? Call 978-934-2474 for details.
Directions and Parking
Take I-495 to Exit 107 (Old Exit49) and follow Rt 110/113 East for 2.4 miles. Harbor Place will be on your right at the corner of Merrimack and Main Streets, across from the Pentucket Bank Building. Public parking is available in the municipal metered parking lot (Goecke Parking Deck) to the left of Pentucket Bank and across the street from Harbor Place. The lower-level of this metered parking facility can be accessed from Merrimack Street; the upper-level can be accessed from Main Street. Parking is 50 cents per hour Monday through Friday, from 8:00am to 8:00pm. Parking is free outside of these hours and on Saturdays and Sundays.
TIP: The lower level of the Geock Parking facility has 48 free 2-hour parking spaces located immediately in front of the garage facing Merrimack Street. This will cover you from 6:00 - 8:00pm at which point the parking is free.
Access to UMass Lowell Harbor Place is through the main entrance at 2 Merrimack St. Students will need to sign into the building on the first night of class, until they have received their UMass Lowell ID card. They will then be able to swipe entry.
Haverhill Students - Get Your Course Books
Books can be ordered online at http://www.uml.edu/bookstore and shipped directly to students' homes.
The books are also available for pick-up at the UMass Lowell River Hawk Shop located at University Crossing, 220 Pawtucket Street in Lowell, MA. Phone: (978) 934-2623
Email: bookstore@uml.edu
Ask an Advisor
Email our program advisors for assistance with your questions regarding the following programs:
About UMass Lowell
UMass Lowell is one of the five campuses of the University of Massachusetts system. The most technologically focused campus, UMass Lowell offers degree programs at all levels through the doctorate. UMass Lowell presently has a student enrollment of more than 17,500, and offers one of the most extensive portfolios of online programs. It is one of the fastest rising universities in the nation in the U.S. News & World Report rankings.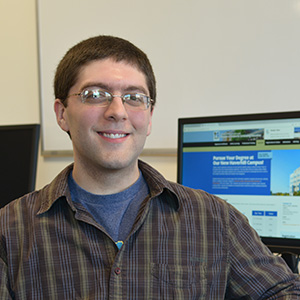 Matthew P.
Current Student "Taking courses in Haverhill has been incredibly convenient for me since I live nearby. It's made earning my degree from UMass Lowell a reality"
Contact Us
UMass Lowell Haverhill Campus
Harbor Place
2 Merrimack Street, 2nd Floor
Haverhill, MA 01830
Phone
978-934-2474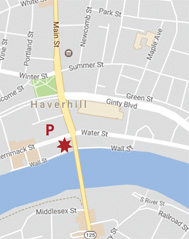 Interactive Map
More Information
Need Help With Course Selection or Completing Your Program of Study?
Call 800-480-3190 to speak with an advisor in our Advising Center, or email us at Continuing_Education@uml.edu with your questions!
Helpful Links
Students with Disabilities who need classroom accommodations should register with Student Disability Services