Meet the Demand for IT Professionals with our Online Bachelor's Degree
Position yourself for a wide range of career opportunities and job security with our online Bachelor's Degree in Information Technology, offered through UMass Lowell's Richard A. Miner School of Computer & Information Sciences. Our graduates find career paths as web developers, computer systems analysts, network and system administrators, computer support specialists and more. You will build a solid foundation in the most used IT systems and languages through our carefully designed curriculum.
Career Outlook
Occupations
Business Intelligence Developer
Computer Systems Analyst
Computer Programmer
Data Architect
Database Administrator
Development Operations Engineer
Information Security Analyst
Information Systems Manager
IT Manager
Network and Computer Systems Administrators
Site Reliability Engineer
Software Developer
User Interface Designer
Web Developer
Source: Lightcast, 2022
Key Takeaways
Computer logic, memory and input/output processing and programming
Database management technologies
Object-oriented and scripting languages
Web server deployment options
Mobile digital platforms, cloud computing and open-source software tools
Website design and development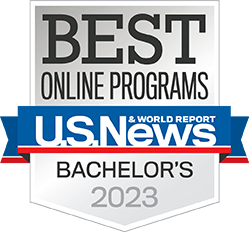 Ranked as One of the Best Online Bachelor's Programs in the Nation by U.S. News & World Report
Success Story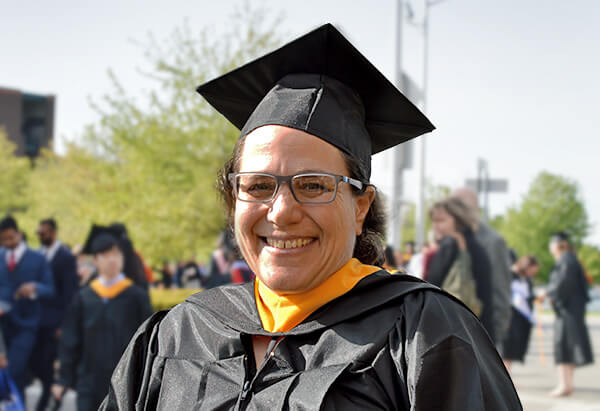 One Success Leads to Another
Apply credits from lower credentials to higher ones. Our programs are designed to build upon themselves:
Tuition at UMass Lowell is typically half the cost of private colleges, and our online tuition is among the lowest in the nation. Tuition for online programs offered through the Division of Graduate, Online & Professional Studies is the same whether you live in-state, out-of-state or outside of the U.S.
Summer 2023 Tuition

Cost Per Credit

Cost Per 3-Credit Course*

Undergraduate

Online
$380
$1,140
Online Business**
$385
$1,155
On Campus Lowell
$340
$1,020
On Campus Haverhill
$300
$900
Additional Costs

Term Registration Fee
$30
Late Fee
$50
Undergraduate Degree Application
$60
Please note: Tuition and fees are subject to change.
Frequently Asked Questions
Is a Bachelor of Science in IT right for me?
A Bachelor's in Information Technology will prepare you for a top-salary job and abundant career opportunities. There is a demand for IT professionals in nearly every industry and a wide range of career options available to graduates of our program.
---
What is the difference between Information Technology and Computer Science?
IT graduates are presented with a much more comprehensive range of career opportunities than Computer Science graduates. A degree in IT will prepare you to apply computing and technical knowledge to business processes. However, many Computer Science majors pursue careers as software developers. It's essential to speak to your advisor and career services about your career and learning goals. Depending on the electives you choose to take, you may still pursue a career path in software development with a bachelor's in IT from UMass Lowell.
---
Do I need a background in IT to complete this program?
You do not need a career or educational background in IT to enter this program. You may be required to complete prerequisite classes for some of the more technical courses to ensure you possess the knowledge to complete all the courses in the program successfully.
---
What is required to earn a B.S. in Information Technology?
To qualify for a degree, you must complete all 40 courses (120 credits) of the Bachelor of Science in IT curriculum and maintain a 2.000 GPA or above. Please see our Policy Page for more information.
---
Which IT classes can I take on-campus?
All IT-specific courses must be completed online. If you choose to pursue a hybrid course format, only specific non-IT electives may be completed on-campus.
---
Can I complete an IT certificate within my bachelor's degree curriculum?
You may simultaneously complete an IT certificate to fulfill your elective credits within the bachelor's degree curriculum and increase your credentials upon graduation.
---
How do I declare a minor in business?
If you apply for the B.S. in IT with a minor in Business, you are not automatically enrolled in the minor program. Please get in touch with your advisor for help declaring a minor.
---
Applying into an Undergraduate Degree Program
Complete the Online Undergraduate Degree Application Form (preferred), or print, complete and submit the Undergraduate Degree Application .pdf form. Please note: Your application will be processed once we have received your $60 application fee. Return your completed application along with your application fee to:
University of Massachusetts Lowell
Division of Graduate, Online & Professional Studies
GPS Admissions
839 Merrimack Street
Lowell, MA 01854

Questions? See our helpful Step-by-Step Guide to the Application Process.
Admission Requirements
To be considered for acceptance into a bachelor's degree program offered through the Division of Graduate, Online & Professional Studies, students must hold a high school diploma or have passed either the GED® or HiSET®. Graduate, Online & Professional Studies operates on a rolling admissions basis and each application is reviewed when the student's file is complete. Students must be admitted to a degree or certificate program in order to be eligible for most financial aid.